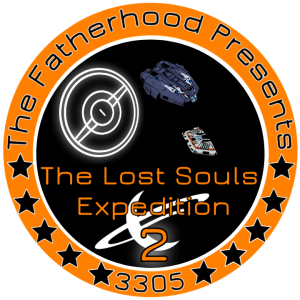 Following the huge success of the Lost Souls Expedition, The Fatherhood is pleased to announce the Lost Souls Expedition 2.

CMDR Gibby2008 – Expedition Leader
Introducing…
The Lost Souls Expedition 2
One year ago a group of explorers led by The Fatherhood took a journey into the void known as the Formidine Rift. Their mission was to investigate the starship Zurara and find out what happend to these lost souls.
The expedition was aimed at explorers of all ability – from those who were seasoned explorers to those who had never ventured out of the Bubble. Due to the success of this expedition, The Fatherhood are going to do it again.
This time, however, we are going to do things a bit differently…
An Expedition in Three Acts
Act 1: Hajangai to Colonia
Our journey will take place this October and will begin in our home system Hajangai , from there we will take a journey to Colonia, stopping along the way at various waypoints.
Departure Date: October 3305
Act 2: Christmas in Colonia
We plan to reach colonia just before the Christmas holidays to have a short break for the festive holidays. While there we will be planning events for anyone who would like to participate before our next journey begins in January.
Details of the events will be finalised nearer the time.
Act 3: Into the Void
From Colonia we will be heading west out into Void, there we will stay till we reach our final destination in April hoping to explore as much as possible, and you never know what lost souls we might encounter…
Departure Date: January 3306
The Expedition Waypoints
To get the best experience from the expedition, we want everybody to travel together and meet up for fun times at each waypoint. To encourage this, we will release each waypoint one at a time to stop people from racing ahead…
Waypoints will be announced on our dedicated waypoints page:
Want to join us?
With the expedition now under way, registration is now closed.
EDSM Expedition
Lost Souls 2 is set up as an expedition on EDSM, so please sign up and enjoy all the expedition-tracking benefits that EDSM offers!